As pride week in B.C. approaches, we reached out to Senior Technical Analyst Katelyn Boughton. Katelyn has been with BCLC for 11 years and is one of the founding members of BCLC's PRIDE committee. Since 2018, this passionate group has been offering education, resources and support, and has become a prominent, much-needed voice for LGBTQ2S+ folks within the organization. Katelyn shares with us a bit about BCLC's PRIDE committee and its initiatives.
Tell us a bit about you and your role
I was born in Alberta but moved to Kamloops in my early teens, and have been living here since. I graduated from Thompson Rivers University with two bachelor degrees in Computing Science and Business Administration. As a Senior Technical Analyst for BCLC's Casino and Business Technology team, I'm responsible for projects related to new software and systems implemented in casinos and bingo halls. This work involves scripting, system design, system installation, support and documentation. 
How long have you been part of the PRIDE committee?
I'm one of the founding members. A few of us got together in March 2018 to support the LGBTQ2S+ members of the BCLC staff, because at the time, there was no visible representation for the community—we wanted our voices heard and changes made to the organization.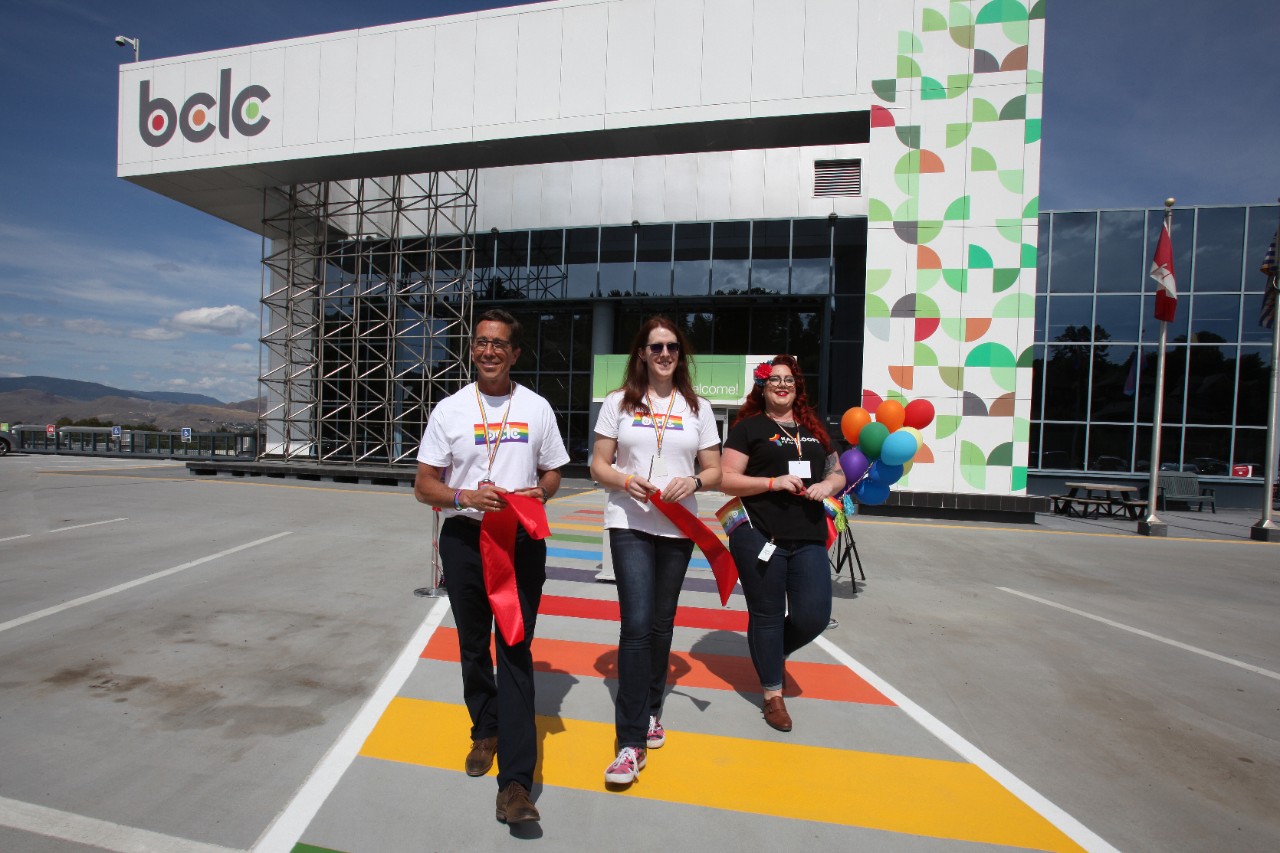 When I came out at 23, things didn't go well and I ended up back in the proverbial closet for another seven years before coming out again at 30. I came out as Trans*, started my transition and completed it as quickly as the medical system would allow. Even from a young age, I knew that I was different, but I didn't have the resources growing up in the '80s and '90s to help me figure out and identify who I really was. When I started my transition at work, I didn't see other LGBTQ2S+ people in the organization and felt alone. I wasn't sure how the company would react to the changes I needed to make in my life. 

In my time, I've helped initiate the creation of the BCLC rainbow logo and gathered support for BCLC employees to march in Pride parades. Most recently, BCLC's PRIDE committee installed a rainbow crosswalk at our Kamloops office, as well as pride decals at our Vancouver office. These highly visible symbols identify BCLC as a safe space for those within the LGBTQ2S+ community. BCLC wanted the rainbow crosswalk to be a message to current and potential employees, as well as the residents in Kamloops, that we support the LGBTQ2S+ community.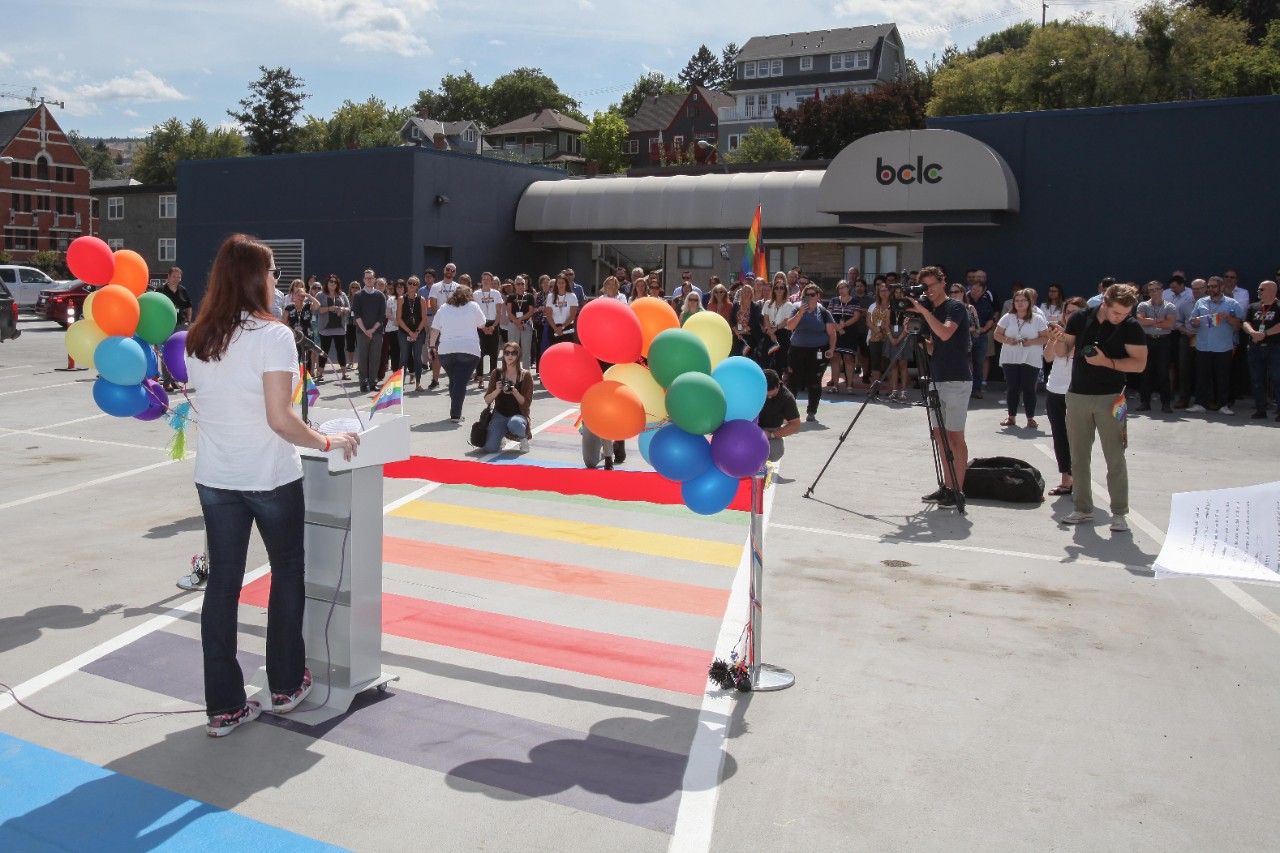 When the crosswalk and decals where unveiled officially, I was honoured that the other members of the PRIDE committee wanted me to speak at both the Vancouver and Kamloops events to represent us all. It also meant a lot that I was able to raise the Trans* flag on one of the corporate flagpoles in Kamloops.
Why is PRIDE so vital for an organization like BCLC?

The PRIDE committee and other committees that support marginalized people are important, because they give people a voice within companies. They help create change to grow and evolve the culture and ensure that all staff members feel supported and valued. We're all more productive when we can be our authentic selves all the time and not have to expend unnecessary energy pretending to be someone we're not. Without these committees, the lived experiences of people can get missed or go unrecognized, which results in companies being out of touch and behind the times. It also brings attention to simple things like ensuring that human resources processes allow for same sex couples or allow folks to update their gender identity or expression. Diversity improves an organization's output and ensures companies can reach a larger audience.
What new initiatives is BCLC's PRIDE committee working on?
We've put on numerous events throughout the year with weekly events during pride month. This year, the committee hosted four virtual events to highlight different aspects of the LGBTQ2S+ community. We're also planning a series called "Show Your Pride" highlighting members of the committee and community, which we'll share internally for our staff.
Finally, we're working on rebranding some of the washrooms in our offices, so they're more inclusive. All gender facilities will help create a safe space for those who don't identify within the gender binary or who might be transitioning—in this day and age, these kinds of facilities are vital and need to exist in companies like BCLC.